It can be seen that the dissipated power PD = 400MW and the thermal resistance is 250 ℃ / W, of which these two quantities are tested under the condition that the ambient temperature is 25 ℃ and the PCB made of FR-4 is welded. The dissipated power is related to the ambient temperature. The higher the temperature, the smaller the dissipated power. The relationship between 1n4448ws dissipated power and ambient temperature is as follows: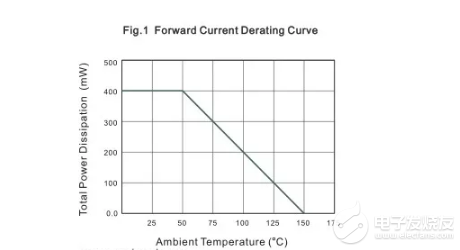 At 0 ~ 50 ℃, the dissipated power is constant at 400MW. At 50 ~ 150 ℃, it decreases linearly to 150 ℃, and the dissipated power is 0. At this temperature, the silicon tube can no longer work. From this table, the inverse slope of the linear part of the thermal resistance can be calculated:
|1/k|=Rja=(150-50)/0.4=250℃/W
According to this table, we can get:
PD=-1/250(TA-50)+0.4,(TA-≥50)
According to the above formula, we can calculate the maximum dissipated power of 1N4148WS switch at different ambient temperatures.
In the actual circuit design process, most R & D engineers pay more attention to the working temperature of the device to ensure a safe working range. Taking MDD 1n4448ws as an example, when the ambient temperature is 50 ℃ and the actual power is 200MW, its temperature is 50 + 250 * 0.2 = 100 ℃, and it can work normally; When the actual power is 400MW, the temperature is 50 + 250 * 0.4 = 150 ℃. At this time, the maximum temperature of temperature saving has been reached, which is dangerous and should be avoided.
In terms of heat transfer of diodes, PD and thermal resistance RJA are mainly considered. The former is the maximum dissipation power, which can not be exceeded in actual work, and the latter is the heat transfer resistance parameter, which reflects the heat transfer capacity of different diodes. When using diodes, not only the forward current, reverse withstand voltage and switching time, but also the dissipated power should be considered.
The scientific use of diodes makes the circuit more intelligent. The professional specifications are much stricter than the actual needs.